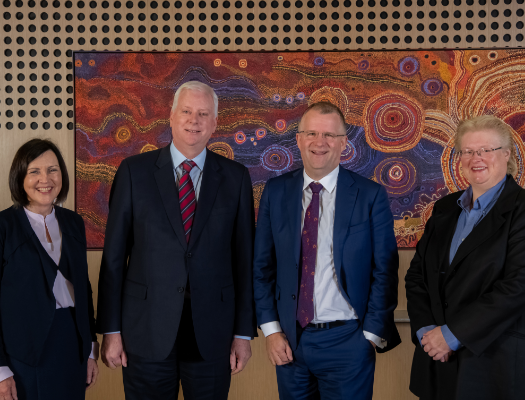 Deakin Receives Ernie Williams Scholarship
In early July, the Norman Beischer Medical Research Foundation was delighted to present Deakin University with a $320,000 gift.

The gift will support two Indigenous students every year from 2020 to 2023, while they complete up to four years of study within the Faculty of Health.

The Ernie Williams Indigenous Scholarship program honours the intentions of Ernest Daniel (Ernie) Williams, a real estate advisor to the Norman Beischer for many years, before his death in 2014.

Board member, Anne Beischer, said that Ernie Williams, who was a friend of her father. Professor Beischer, strongly believed education was key in helping Indigenous people to reach their potential, and improve the overall wellbeing of their community.

"Ernie left a generous bequest to the Foundation, and his wish was that the funds be used to support Indigenous students to further their education," Ms Beischer said.

"I hope this not only helps the recipients complete their studies, but to perhaps ignite some interest in midwifery and medical research further down the track," she said.

Norman Beischer Medical Research Foundation CEO, Mr Andrew Brookes, said the Foundation encouraged participation of Aboriginal and Torres Strait Islander students in higher education at Deakin University.

Mr Brookes said the Foundation was inspired to contribute to Deakin's work to support Indigenous outcomes because of the University's reputation for providing a community-based learning model specifically designed for Aboriginal and Torres Strait Islander students.

"The scholarship program is a wonderful way to fulfil Ernie's lasting wish to provide tangible support for the education of Indigenous students," Mr Brookes said.

"We are delighted to be partnering with Deakin on these scholarships, especially as we know that the university provides such excellent support for indigenous students through the Institute of Koorie Education.

The gift presentation, which coincided with NAIDOC Week, also included a $92,000 research grant from the Foundation to co-fund a three-year project based at Barwon Health. As part of Deakin's Faculty of Health, the project will investigate how a mother's gestational diabetes affects the bone health of her children.

The official joint signing took place at Deakin Downtown Melbourne with the University's new Vice-Chancellor, Professor Iain Martin.